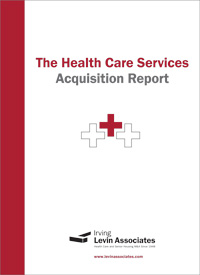 The industry source book of mergers and acquisitions in health care services
More than any corporate resource, The Health Care Acquisition Report is the most important tool in plotting your next strategic move. Get exclusive trend analysis on M&A in hospitals, managed care companies, physician medical groups, rehabilitation, labs/MRI/dialysis, behavioral health care and more. Monitor current market pricing and terms to increase your knowledge and competitiveness. Save time with at-a-glance financial data, including unit and revenue multiples.
Published March 2016
You will receive:
Financial analyses on per bed prices, revenue multipliers and consolidation strategies.
Verified fact sheets on health care mergers and acquisitions with hard-to-find deal information.
Insightful analysis of issues and trends that have shaped the health care acquisition market over the past five years.
Sectors include:
Hospitals
Behavioral Health Care
Laboratories, MRI & Dialysis
Managed Care
Physician Medical Groups
Rehabilitation
…and more
Please call if you are interested in a corporate/group subscription.